Filter by Category
Framingham - b.) April 21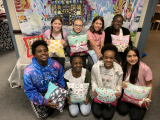 Framingham April 21
with Trudi Savas

Next available session starts Apr 21, 2023 at 1 pm
1:00 pm - 3:30 pm Come and get creative with us. Your children will vote on a project to make the day of. If time is available they will have *Free Sew!
Choose to learn how to use the; Sewing Machine, Embroidery, Vinyl hot press or just review and refresh your skills!
All projects are designed and sewn by your child. Each day at least one finished project will be brought home.
It is a time for fun so in addition they will play games, watch movies and snack with their friends. No stress, no sewing experience necessary, all machines, materials and snacks are included. Tell your friends.